Flowing Into Stillness Workshop
GO BEYOND THE USUAL PHYSICAL APPROACH TO YOGA AND LEARN HOW TO MASTER YOUR ENERGY FOR TRANSFORMING YOUR BODY, EMOTIONS, MIND AND SPIRIT
WHO IS IT FOR:
Ideal for beginners, advanced practitioners and teachers.
WHAT YOU WILL LEARN:
⇒ The deeper meaning and practice of Yoga for mastering your energy.
⇒ Why mastering your energy is the key to conscious evolution.
⇒ How to use Yoga postures to create powerful energetic circuits.
⇒ How yogic breathing techniques transform every aspect of your being.
⇒ How to use breathing practices as preparation for a deeper meditative state.
⇒ Yoga postures, breathing techniques and internal locks to purify and activate your chakras.
⇒ A complete practice sequence that gives you access to a profoundly peaceful state.
Experience the deeper dimensions of Yoga!
⇒ This workshop begins with a lecture on the deeper, subtle energetic aspects of the Yoga asanas, pranayama, internal locks and the chakra system.  You will gain an understanding of how energy is the link between the physical body and the emotions and mind, as well as how to bring balance to all the levels of your being through various powerful Yoga techniques.  
⇒ The 2 hour complete Yoga practice will incorporate a variety of practices that go beyond the physical body, into the subtle layers, to create a deep state of relaxation, emotional balance and mental calmness.  
⇒ We start with invigorating breathing techniques that awaken the energy and mind.  Then we enjoy a gentle physical warm-up before moving to a dynamic, flowing sequence that focuses on physical strength, balance and flexibility, with a continued emphasis on deep, energizing breathing throughout these first two stages.  
⇒After getting the body and energy moving, we gradually slow down the practice with a meditative sequence that guides us deeper into the internal awareness of the subtle aspects of ourselves while consciously guiding the energy into specific chakras/energy centers.  
⇒ The practice then transitions to an extended pranayama/breathing practice with internal locks that takes us on a journey through our chakras to purify, energize and balance our entire system. This prepares us for the culmination of our yoga practice, which is the final guided meditation, that facilitates an enhanced state of mental clarity while gently opening our hearts to a state of gratitude.
⇒ The class closes with a nourishing, guided final relaxation in Savasana.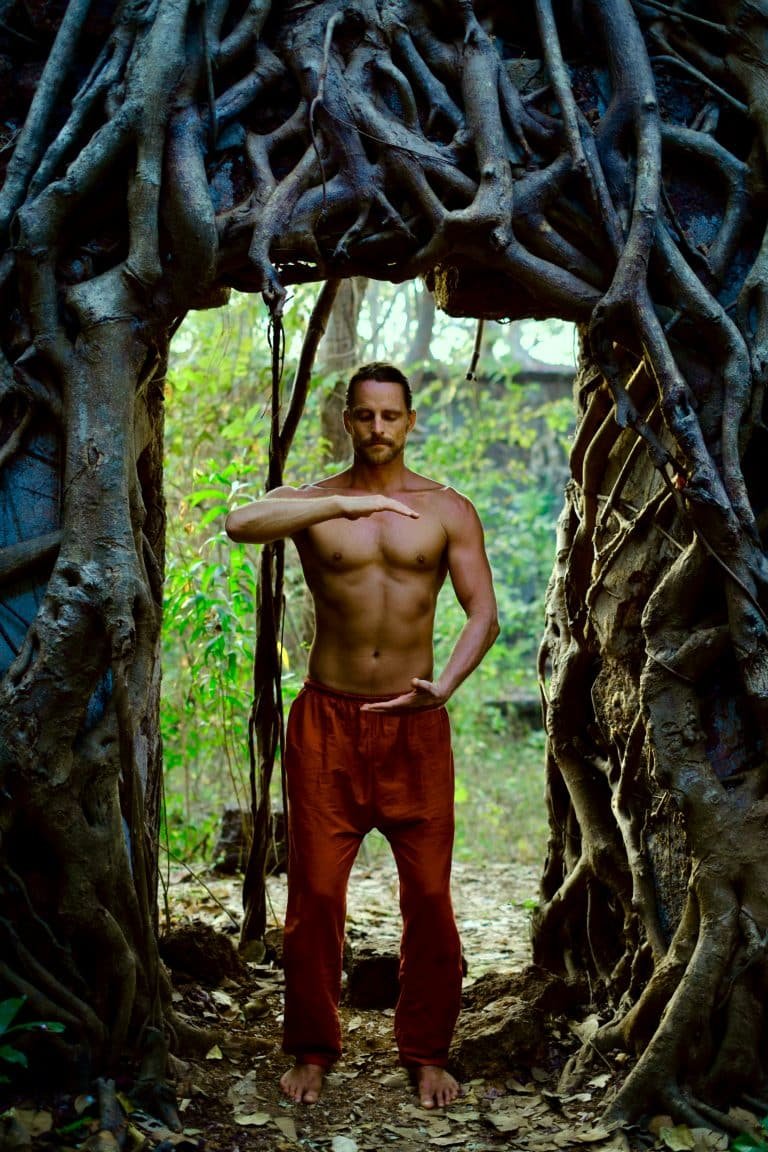 Jason Milne is a registered E-RYT 500 Yoga teacher with the Yoga Alliance who has been practicing Yoga for more than twenty years and teaching professionally around the world for the past sixteen years. He has completed a four-year course of advanced Yoga study and six additional YTT's covering a wide range of Yoga styles, including: Hatha, Ashtanga, Vinyasa, Chakra, Yin, traditional Kundalini, Power, Tantra Yoga, alignment-focused Yoga and Yoga Therapy.
Jason has taught in over 25 Yoga teacher training courses and worked with thousands of students from all over the world. He has devoted his life to the study, practice and teaching of Yoga and his thousands of hours of practice have given him a deep understanding of the many techniques and benefits of this ancient science.  Jason utilizes his extensive experiential knowledge to create classes, for absolute beginners to advanced practitioners, that facilitate physical, emotional, mental and spiritual healing through emphasis on working with the subtle energies of the body and nature to balance all aspects of each practitioner.  He is currently teaching workshops, immersions, retreats and training courses internationally to share Yoga with anyone who has an interest in healing, evolving and awakening their highest potential.
This is the first workshop that finally brought to my understanding the deeper layers of the science of Yoga. Jason is an amazing speaker and a very gifted teacher explaining the complex material with clarity and ease. I want to study more with him.
— Stefanie
I really enjoyed how Jason delivered the complexity of the multilayered philosophy of yoga and how he linked every aspect of it to the practice afterwards. I could literally feel my energy flow.
— Karl
So many modern yoga classes miss out the breathing techniques and meditation. I felt like  breathing, meditation and energy work were an inseparable part of our profound asana practice with Jason. He really showed us how to embody the energetic aspect of this beautiful tradition.
— Elena